By JENNIFER MARTIN
Staff Writer

If you like the distinct guitar of musical artist Sheryl Crow or Fiona Apple's edgy lyrics and Dido's sweet sounds, then you should stroll down to Annapolis Tuesday night to hear former Bowie resident, Angela Taylor, belt out her original tunes, music she calls, "alterna-pop".

The performance, which will be held at 8:30 p.m. at Rams Head Tavern, will include songs from her new album, "Songs for Strong Girls", released and recorded on her own label, Skinny Girl Records.

Music, she said, has always been in her blood. Taylor, whose mother is a pianist and father a singer, started playing piano at the age of three. While
attending Prince George's County public schools, she played in many orchestras and sang in several choirs.

During her senior year of high school - she attended Eleanor Roosevelt High School - Taylor's family moved to Bowie. "I come back frequently because my mother still lives there," said the Baltimore resident.

After high school, Taylor, 30, attended Baltimore's Peabody Conservatory where she majored in flute and recording engineering and minored in voice. She also earned a Masters degree in computer music from Peabody.

Locally, Taylor was voted 2001's Best of Baltimore Best Solo Music Artist by the Baltimore City Paper 2001 Reader's Poll and nationally, she was chosen as a finalist in the "Lilith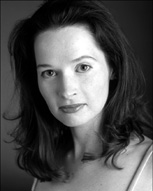 ANGELA TAYLOR

Fair" and the "IMX Discovery" contests.

Taylor's tunes can also be heard on various Annapolis and Eastern-shore area radio stations such as WRNR 103.1 FM, WRNV 89.7 FM and WMUC 88.1 FM stationed in College Park. Her songs are currently topping the charts on Salisbury's WSUR 107.5 FM.

Taylor, who released her album
in June, composed, performed and recorded all the songs. She describes the album as "mainstream-appeal alternapop, but heavily influenced by my training at Peabody."

When not singing or recording, Taylor spends some of her time teaching computer music courses at Peabody. She also serves on the Board of the Washington DC Recording Academy (NARAS).

"I am just so thrilled to be playing at The Rams Head," said Taylor of her upcoming local concert. Tickets are $13.50 and table reservations are highly recommended. For information call 410-268-4545 or log onto Taylor's website at www.angela-taylor.com.

The writer may be reached at jmartin@bladenews.com.