I didn't have a clue what to expect when I put Songs for Strong Girls from Angela Taylor in my CD player. I am floored. She blew me away, I never expected this. She's got it all happening, too. Everything, absolutely everything. This woman is one woman who should be heard and she should be heard for so many different reasons.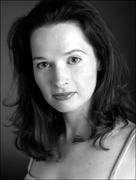 Angela Taylor was born to a Mom and Dad who were performers. Music has always been a part of her life. By the time college came, she knew she wanted to attend Peabody Conservatory of Music. She earned a Bachelor's degree in performance from the prestigious school, and went on to get her Master's degree in Computer music. Her education only enhanced what Angela already had, talent oozing from her pores. It was a matter of time until she did what she just did, which was release her debut CD, Songs for Strong Girls (I love the title!)

The one-and-only John Jennings got turned on to Angela, and it's been a union of magic from start to finish. I got this funny feeling inside, I do believe Grammy winner John Jennings may have found another one. This woman has massive potential. She's got it all!

Her voice is magical and goes everywhere. She can hit the high notes, and the low notes. She sings and screams, kind of. She has many voices, all of them shine on the disc. Crisp, ballsy, emotional, sensual-what a set of pipes. Taylor also writes some incredible songs. All nine songs were written by her, sometimes with the aid of Jennings, Richard Radford, Chris Mandra, Sean Finn, and Ms. Olene. Each cut stands out on its own. I'd be hard pressed to pull a single, she's got so much going on here. What an album!
Taylor does all the vocals, and is backed by Jennings, Radford, Finn, and Tim Yungwirth, Rich D'Alessandro, Jamie Kelley, Shea Welsh, and with the aid of Jared Weissbrot and Eric Chang. She is quite a woman. Her songs are so approachable, and so familiar-so grab you in the gut. I love "Now I'm in Charge of Me" and "Don't Give Him Your Love for Free", and those are just two. Wow! And then there is "Anything" with the violin of Noah Stone, viola by Miriam English, cello by Emily Stromberg and Hillary Kew. "Anything" is on the mark-it's a Top 40 tune waiting to happen. There are a couple of them. The only thing wrong with this effort is that it is too short. Believe me, you will be hearing Angela Taylor and hearing about her. This woman's got what it takes.