So who is Angela Taylor? If you hang around the Baltimore music scene a bit, you'll learn that she was voted 1999's Best Solo Music Artist and was one step away from rocking the Lilith Fair two years in a row. You'd learn that her music leaves you feeling 'green' (great and serene) mirroring the juxtaposition of the fun of pop with the strings of classical. Her precise musicianship (is that a word?) is better than most of us deserve or will every really comprehend; unless you too attended a conservatory for music. Take a few moments and meet someone you wish you could share a cup of coffee with. If the interview inspires you, check out her website at www.angela-taylor.com.

UR: Who are you?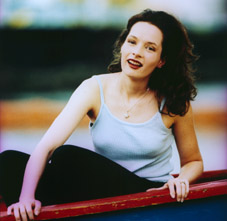 AT: I am Angela Taylor! Singer/songwriter and many other things.
Talk about your music: your attraction to it, how you got into it and why you're sticking with it.
OK. Well let me start with how I got into it. I'd been playing music my whole life and I decided that I wanted to go to music school when it was time to go to college. With a background of science and technology, I decided to go to the Peabody [Institute] which is part of Johns Hopkins [University]. That way I could get a world class music education and I could also do top notch science and math classes – a challenge. I got this whole immersion in serious music. I studied music theory extensively. What was disheartening was that a lot of people go to school and study classical music very seriously, but there's not a very big audience for classical music and the audience dwindles year by year. So I got interested in music that was more accessible and more popular. I found this kind of music on my own, and taught myself about pop music.
What do you think draws you to music?
It's my core.
What is it about music though? Do sounds somehow do something to the brain?
It's been scientifically proven that classical music anyway gets the alpha waves going in your brain. If you want to come down to hard science, I suppose you could look at that research.
That's why I'm interviewing you: because you're the music and science person. (No sarcasm was intended here and I believe none was taken.)
Music is based upon science. The intervals that music is based upon are all mathematical. Like an octave is a doubling of the note below it. It's all actually quite scientific.
Well, who are the musicians that currently make you feel good. Either scientifically or just make you feel good?
I just bought a CD by this girl who kicks ass! Her name is DJ Rapp.
Is she a DJ?
I think she started as a DJ spinning, but then she decided to write her own album. It's so good. It's breakbeat pop. It's a new genre! Like I'm making my new genre.
And how would you describe your "genre?"
God, I don't even know what to call it!
You've been calling it [on her web-site www.angela-taylor.com] "radio friendly alterna-pop with a twist." My question is, what's the twist?
Classical. It's a classical twist. Strings and sustained harmonies. Things that you don't ordinarily find on a pop record. I know there are other artists using strings but what I gather, I think most of them are paying other people to do their string arrangements. I'm not paying anybody to do anything.
Yes, I believe that.
Frank Zappa once said years ago that you can be a great songwriter or you can be a pop artist – there's a huge difference. Do you still believe that it's the same in the now?
[Yes.] To write popular music there is some degree of dumbing down, because it's repetition. Pop songs are based upon repetition and in classical music, we tend not to hit our audience over the head so much with the same thing over and over again.
When did you start playing in the college scene?
When I was in college! Like 1990.
Do you still keep up w/local music and who are some favorites?
Governor Soul, Another Lincoln, and Great Mutant Skywheel. The reason I have an affinity for GMS is because I used to be in a band with three of their members and I'm using those same guys to play on the tracks that I'm recording for my album now.
What are their names (GMS)?
Sean Finn, Jamie Kelley, Chris Mandra.
When did they start playing?
After my band 'Termite' broke up in '97. You see we broke up because I said we needed to play cover tunes to play in the bars and they said, "We hate cover tunes." And then we said we'd do a demo of cover tunes and we went in the studio and recorded three songs and I thought it sounded really awful. I was like "This sucks! We can't send this to any bars." And they thought it was fine. We went back and forth, and eventually that was why we broke up: over this STUPID COVER SONG DEMO. It's funny how those three guys who I put together then decided to go off and be in their own band. But I think it's great because I think they're great guys.
You left them with something.
I suppose. It's funny though. There's this song called 'Army' by Ben Folds Five. One of the lines was like, "Citing artistic differences the band broke up in May. And in June reformed without me..."
Do you think people in college ever identified with 'Termite?'
They seemed to like it. It was harder than what I do now, as in edgier – not harder to play.
Do you think the Peabody Institute is still influencing you, forming how you're writing? You said you do a lot of mainstream but yet you have this amazing background.
Oh yeah! That's how I compose. When I compose I think about the intervals and I think about the harmonies and I think about the voicing and I think of all of the stuff that I learned in my Baroque composition classes. You can use all those "rules" that you learn and totally use it to write good music today.
What's one basic rule?
Avoid parallel fifths.
Which are?
If you have a C and a G and you decided to move to a D and an A, that means you're moving in parallel fifths. It's better to have contrary motion than to have…
Parallel fifths.
Yeah. Like parallel thirds and parallel sixths are OK, but parallel fifths and parallel octaves are not OK.
I'll be sure to put that down for anyone who's reading the article.
(Laughing) OK!
Do you have a message for your music? Is there something you're trying to say? Is there a general theme?
My life.
The fall and rise?
Um. The continual evolution of my life and…how do I word this? Sort of like a gathering of momentum as I go. I'm figuring "it" out. The big "it." And every year I figure "it" out a little more.
Wow.
When did Skinny Girl Records start?
When I decided to make my own album. Two years in the making! I tried with 'Termite' but then [we] broke up.
What do you use Skinny Girl Records for? Distribution, accounting?
Yeah, just because if you have a record company it's got to have a name. No big deal.
Are you ever concerned with being PC and the name 'Skinny Girl Records' and how that might affect younger women today?
Well anyone who knows me, knows that I'm a skinny girl! So if anyone has a problem with it they can just… [The following has been edited for those of you under 21]
Do you think people will generally accept this music?
It's very accessible music. I think people will accept it. [An artist] has to figure out what format is their music and what percentage of the population listens to that format. If you can get your music on the radio, people will buy it. That's the bottom line.
It's not that easy though.
It's not that easy. No, it's very hard. Usually the only stuff that gets airplay is stuff that's on a major label. And since I don't intend to sign to a major label, I'm going to have to figure out ways to get airplay.
Do you plan on maybe having SGR help anyone else in the future?
I don't have time to help other artists right now. I'm running on 110%, 110% of the time. Perhaps in the future after I'm established.
What else do you do?
Well I do web-design to support my music habit. I also [teach] figure skating. I teach college classes in electronic music and I've been trying to get this album out!
---
If you want more you should meet this alterna-pop of a person at an upcoming show. Or go to her web-site www.angela-taylor.com to check out her latest shows and her biography. Most of all you should wait patiently for an upcoming album slated for release at the beginning of the new millennium. Angela has a lot to say, but nothing more defining than her comment regarding the way she lives her life and how we might begin to live our own: "I got tired of waiting for success, so I decided to start without it." Angela attributed this quote to Gary Bennett of 'BR549', but now it will be forever retained in my memory of the pink alterna-pop pucker of Angela Taylor.